Panama is a proper noun. Panama is (1) a stiff straw hat with a flat crown, (2) a republic on the Isthmus of Panama; achieved independence from Colombia in 1903. The following articles provide more information about the proper noun Panama.
Central America Map


Central America is located at the southern-most part of North America, and comprises the 7 nations of Belize, Costa Rica, El Salvador, Guatemala, Honduras, Nicaragua, and Panama.
https://www.central-america-map.com/

North America Topo Map


The North American continent extends from the Arctic Ocean in the north to the Caribbean Sea and the isthmus of Panama in the south.
https://www.map-of-north-america.us/topo-map.htm

History of South America


South America was initially settled by Asians who crossed the Bering Strait approximately 4,000 to 5,000 years ago. They migrated southwards, reaching South America via the Isthmus of Panama.
https://www.map-of-south-america.us/history.htm
The following articles provide recent Panama-related news.
Biodiversity may limit invasions: Lessons from lizards on Panama Canal islands


Introduced species can become invasive, damaging ecosystems and disrupting economies through explosive population growth. ...
Science Daily. Monday, 10 Aug 2020 10:33:10 EDT.

Panama coronavirus cases rise to 8,282, deaths reach 237


Confirmed cases of coronavirus infection in Panama reached 8,282 on Saturday, a rise of 212 from the previous day, and deaths climbed by six to 237, the health ministry said.
Reuters. Saturday, 09 May 2020 20:11:46 -0400.

Panama President Inaugurates New COVID-19 Hospital


100-bed COVID-19 hospital opens in Panama City.
Voice of America. Friday, 17 Apr 2020 02:49:34 -0400.
The following digital image illustrates the proper noun Panama.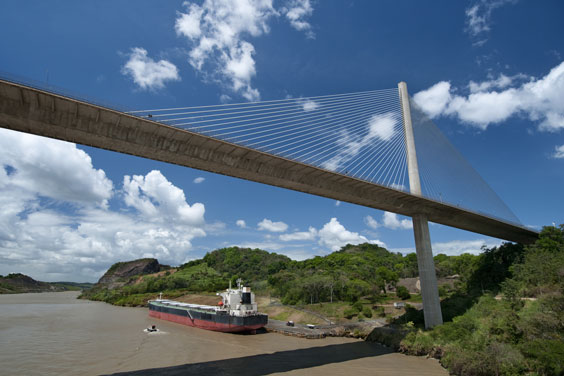 Bridge over the Panama Canal
Interactive Panama Maps
Use the map menu below to display interactive maps of Panama, either in a frame on this page or in full-screen mode.
---
Copyright © 2012- TagWeb.org.
All rights reserved.